Introduction


This project was my vision, but after looking at the scope of it, I knew that I would need the assistance of others. I am now "the coordinator" and for the most part, that's the part I play in the whole scheme. This is where unsung heroes begin to add value to the program. Without able assistance from others this is a project I would not be able to complete in my lifetime.

Unsung heroes are those who historically never get credit for the value that they've added to the project. However, I am going to try in earnest to shine the light on those who have made a contribution towards this project. So from time to time, in future posts, recognition will be given to someone or some company who has gone the extra mile while contributing to the Target550 project.

Initially there has to be a person or persons who have "the vision." Without that, there is nothing. In projects such as Target 550, the vision is a minute part of the whole experience. I will share with you the backgrounds of the "unsung heroes" and the parts they have played in making "the vision" possible. In the "vision" one must assess the amount of compromise allowable, if any, in all aspects of the build. Driver safety, dependability of the engines, drive units, transmissions, tires, and last but not least, fire suppression and the redundant methods to arrest the speed of the vehicle. These areas are where "zero" is the allowable compromise.

With that premise the project is commissioned. When areas failed the sniff test, alternatives were immediately sought out rather than "let's try it and see." Many sources have been tapped to maintain the level of construction and design that you have been able to see in the build diary.

Stay with us on Target550.com and you will get to see behind the scenes.

Marlo



Mike Swickard aka Mike Swick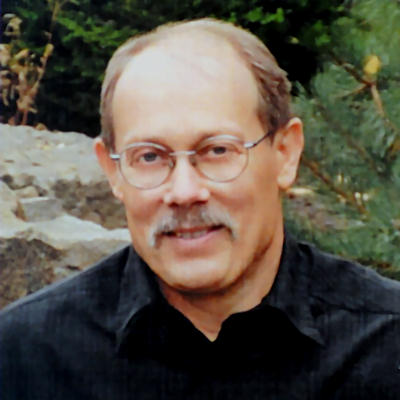 Our first "UNSUNG HERO" is Mr. Mike Swickard. This man was my friend for over two decades.&nbsp His talents were many.&nbsp He built hot rods for himself and did machine work for others.&nbsp His shop was very low profile; he worked out of his home garage.&nbsp But it was no ordinary garage, nor was he an ordinary man.&nbsp In the midst of a residential district where everyone went to work, the utility pole set in front of his house told a story.&nbsp He was the only one on the street who had a 600 amp three phase 480 volt power available and running to his garage.&nbsp Being a machinist most of his adult life he had the experience and ability to do most things "at home".&nbsp He was familiar with his shop equipment and could hold the closest of tolerances on any of the machines.&nbsp There was never a "this will be close enough" call on his work.&nbsp He thrived on the ability to do most complex work without the aid of CNC machines.&nbsp He fit right into the "zero tolerance" program.&nbsp His working lathe did not even have an electronic readout on it.&nbsp He knew how far to bump the wheel or the knob for ¼ of a thousandth.

His ability reached much further than one would ever imagine.&nbsp He was a complete car builder and thrived on the unusual.&nbsp His street driver was a '33 Dodge 4-door with Viper suspension, all leather interior, a filled steel roof, widened fenders and running boards and of course a supercharged 426 hemi.&nbsp Color?&nbsp Black and flawless of course.&nbsp Flawless and all done by him at his place.&nbsp Other cars in the family were a '40 Chrysler convertible with a late Hemi V8 and a '33 sedan also with modern power.&nbsp They all have just the right stance and colors.

His side line was building early Dodge grilles from scratch out of polished stainless steel.&nbsp He fabricated every part of them and built a jig to hold it all in place while he welded each part into the grille shell.&nbsp It was magic.&nbsp His card said it all: "Swick's bar and grille."

Another passion was hunting.&nbsp He would spend days in the woods before the season to get a good idea what was there and where it was.&nbsp His favorite weapon was a bow and arrow.&nbsp Now that is sport and he was a "good sport" and a true hunter.

He was an integral part of the Target 550 operation from the start.&nbsp I doubt that I could count his contribution in numbers of pieces.&nbsp His fingerprints were on all facets of the project.&nbsp I am sorry to report that his time on earth was called and he is viewing his wondrous works from a seat on high.&nbsp God Speed to Mike Swickard.&nbsp He is truly missed by all who knew him.&nbsp A salute to Mike Swickard, an unsung hero we will not forget.



Capt. Cress Baxter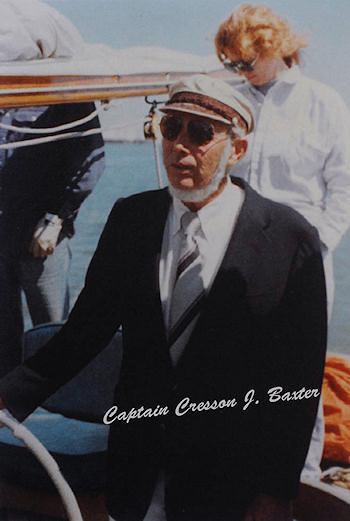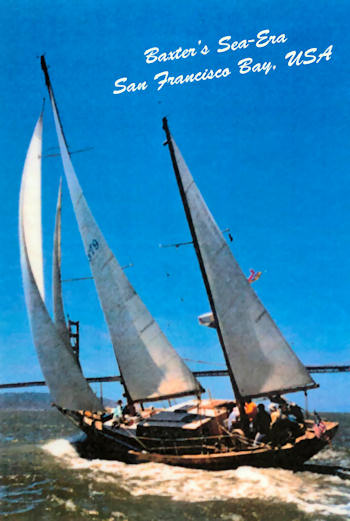 In the mid 1950's fortune smiled on me and I met Cress Baxter.&nbsp He managed a real hot rod shop in Portland, Oregon.&nbsp The shop owner was Dick Martin, but it was conceived by Bax.

Cress had just been released from active duty in the Air Force and was looking for a job.&nbsp He had seen muffler shops in California that advertised 20 minute muffler installations.&nbsp He told Dick that he could do it in 15 minutes.&nbsp Cress convinced Dick to build a muffler shop on the back of his car lot.&nbsp He would manage it.&nbsp They advertised 15 minute muffler service.&nbsp It was named Exhaust Specialties.&nbsp It worked and soon they moved to bigger quarters.&nbsp It evolved into the largest hot rod parts store in the Northwest.

Everything clicked.&nbsp The timing was good, the location excellent and the customers were hungry for the service and parts the shop could provide.

In 1959 Cress left Martin's shop and started his own auto facility.&nbsp He specializing in "whatever no other shop would do" and working on cars that "no one else" wanted to work on, including boats and Amphicars.&nbsp (Have you overlooked an Amphicar in you neighbors old barn?)

I heard about this shop, applied for a job and went to work the same day.&nbsp It was the very best job of my life.&nbsp We put V8 engines in everything and there was no rhyme or reason for some of them.&nbsp Buick V8 in a Jag, Olds V8 in a La Salle, Chevy V8 in a Falcon, Chryslers into Fords, Chev 409s into anything, Ford V8s in Jeeps, and superchargers on any of them.&nbsp I was the kid in the candy store and Cress encouraged his mechanics to do it the best they could.&nbsp We converted automatics to stick shifts and stick shifts to floor shifts or automatics.&nbsp He had done many engine swaps while he was with Martin and so there was nothing that he considered impossible.&nbsp Some of our work was "show car" and some was "rat rod". It was just a matter of what the customer wanted.

Work was fun.&nbsp We worked on pure race cars and even converted some street cars into race cars.&nbsp We had no boundaries.&nbsp Circumstances forced Cress to close the shop and he followed other venues for a decade or so.&nbsp But in 1979 his "life's dream" became a reality.&nbsp He bought a large (say big for Puget Sound and no prior sailing experience) sailboat and sailed around the world.&nbsp After 10 years of sea adventures he sailed into the San Francisco Bay.&nbsp That's where he and I were reunited.

Rumor had it I was going to the Czech Republic to buy a MiG 21.&nbsp I confirmed that and he suggested that he accompany me since he knew a little about business in Europe.&nbsp Besides he had been a jet mechanic in the Air Force.&nbsp He had also chartered boats for 6 years out of Spain.&nbsp Not exactly the same, but he was great company.&nbsp We ventured into Europe and bought three airplanes.&nbsp We couldn't speak, read or write a single word in Czech.&nbsp But we made the deal and arranged to have them shipped, in containers, to the Pacific Northwest.&nbsp By the time the aircraft arrived, we were hooked at the hip for the rest of our lives.

He sailed his boat out of SF Bay and brought it to Portland so he could be close to his prior home, my Bonneville lakester and the MiGs.&nbsp Soon he was hooked and became a full time Bonneville addict.&nbsp He made at least 20 Bonneville trips with me and assisted anybody who needed advice, a pit crew person or any form of assistance.&nbsp He had experience at every level of disaster.&nbsp That is the beauty of boat ownership and a hot rod heritage.&nbsp He could fix anything with nothing.

Working for him in the 50's had honed every skill I could muster and he brought out talents in every employee.&nbsp We were a team, not just a group of employees.&nbsp What one person couldn't do, someone else could.&nbsp Our individual horizons were without bounds and Bax thrived on getting the most - and the best - out of his shop.&nbsp He had pride in the diverse group of vehicles that his shop produced and maintained.&nbsp No mechanic ever left the shop without taking with him an expanded understanding of the world of automobiles.&nbsp We were being paid to have the time of our lives, serving a seeming endless supply of eager customers who wanted their cars to be something "different" and we loved it.

Bax and I laughed often and with vigor.&nbsp After 50 years of friendship each of us worked for the other at one end of those 50 years.&nbsp There was never an argument or a cross word.&nbsp We didn't always agree, but we had respect for each other's opinions.&nbsp He was my ambassador, my advisor and my confidant when I began the Target 550 adventure.&nbsp His insistence that we always look outside the box is as important to me today as it was in 1959.&nbsp The curtain is closing in on the 1998 project called Target 550.&nbsp Concepts were brought to the table that we would not have had except for Capt. Cress Baxter.

He's been called to another adventure and is now looking through an eternal window, discussing the progress with Dick Martin, Mike Swick and Bob Swank.

I really miss that batch of brainpower.&nbsp They always contributed the way they would do it, "using my money."



Bax:&nbsp &nbsp &nbsp &nbsp &nbsp &nbsp &nbsp &nbsp &nbsp &nbsp &nbsp &nbsp &nbsp &nbsp &nbsp &nbsp &nbsp &nbsp &nbsp &nbsp
In your 30 years living aboard the Sea-Era,
I hope you were always running down wind.


God Speed to you Capt Bax.
Thanks for sharing your time on earth with me.

Marlo&nbsp &nbsp &nbsp &nbsp &nbsp &nbsp &nbsp &nbsp &nbsp &nbsp &nbsp &nbsp &nbsp &nbsp &nbsp &nbsp &nbsp &nbsp &nbsp



Mick Gray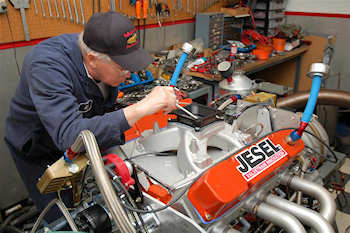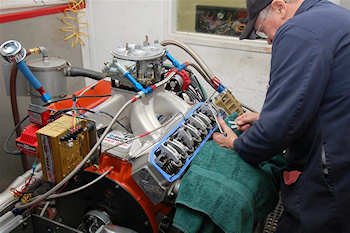 Mick Gray's machine shop in Tigard Oregon.



In the early 1970's Mick Gray opened his own auto machine shop in Tigard, Oregon.&nbsp He accumulated a marvelous selection of the best, most reliable dependable equipment.&nbsp He not only owned, but he knew how to generate precision parts with each machine.&nbsp Not all of it was state of the art, but he was able to do just about anything to an automotive or marine engine in his shop.&nbsp While making more horsepower, he never forgot the "must finish" aspect of racing engines.

He was able to make the changes as the industry changed. and as the industry changed, Mick rolled with the punches.&nbsp He aligned himself with boat racers and race car folks who needed a motorman.&nbsp He was "their" man.

He fielded good boats and with his motors they won events all over the world.&nbsp He had excellent motors and engaged good drivers.&nbsp He did not go for the "pole position" every event but he was going for the checkered flag and when the hot shoes had broken their equipment "steady as she goes" Mick Gray's boats finished first.&nbsp Season after season they were the high point winners because his engines were still running at the finish.

Since he had the equipment and know how to do all the machine work, we took him the things that needed to be fixed.&nbsp He understood the repairs and got the jobs out on time.&nbsp Our regular transportation trucks and race car motors all received the same type of attention.&nbsp We had the heads done there and if needed, the cylinders honed and the mains taken care of.&nbsp This was just part of what he did every day.

His race car motors were highly competitive at the drag races and circle track events.&nbsp His aim was to have the car place well in the lineup and come across the finish line with an intact engine leading the pack.&nbsp It was a philosophy that worked.&nbsp In later years he became interested in dyno work and installed one with the best software that was available.&nbsp He spent a lot of time getting to understand the value of the dyno.&nbsp As in many cases, by the time one gets the best equipment and the time to attend to it, something changes your entire life.&nbsp So it was with Mick.&nbsp The Good Lord had another job for him ,"out of this world," and took him ahead of his time.&nbsp While he was here Mick developed good friends and loyal customers.&nbsp He was fair, honest, reliable and on time.&nbsp His talents are greatly missed.&nbsp He was a good man and I am proud to have known him.&nbsp I consider him a lifelong friend.

God Speed Mick Gray

Marlo