Ray the Rat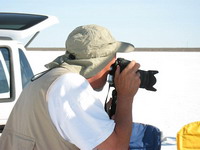 Photo by Wes Potter
Ray S. Therat (or Rat to which he answers on the salt) has been a team member for a couple of years. He's assumed the role of web elf. He'll be making website updates using Freud's (Glenn Freudenberger) photos and possibly his own in the future. Rat comes from a slightly different background than most of the racers. He was scarred for life when he awoke (at the age of two weeks) to find a model of a then-current sprint car in the crib with him. Thus began his downward spiral. He was cared for by a pack of suburban coyotes until they dropped him on his head and left him for carrion birds. From then on, his care and social development was provided by a small band of semi-sentient sewer rats. They provided many of the skills needed for computer programming and web development later in life: a nocturnal life style, a penchant for Szechuan chicken, Thai noodles and twinkies along with a hopeless addiction to cream soda.
Rat worked for a time as a migrant tree planter in the Sierra Madre mountains until he was captured and forced to wear green baggy clothes for several years. Following his escape from captivity he began a furtive attempt to live among humans, mostly hiding behind cameras or computer screens. His life became that of a gypsy COBOL/Pascal programmer, many times holding signs reading, "Will code for food (particularly spicy stuff.)" This lifestyle took its toll as did years of SCCA racing and corner worker duties as well as bracket drag racing while building a collection of muscle cars. Rat was forced to retire from his gypsy programming duties due to a massive tissue rejection of his own coronary arteries. He still has one of them (arteries, not muscle cars.) Rat is also crazy about dem blooze and plays electric bass, lap steel guitar and Hammond organ, although it's difficult to do so with a rat's metatarsal arrangement.
The Rat contracted an incurable case of salt fever in the late 20th century, having dabbled in other areas of motorsport...at least those that permitted rats to participate as noted above. He's at home at hot rod cruises, car shows and sports car/motorcycle tracks as well as on the salt and plans a pilgrimage to El Mirage in 2011. Rat has been known to shoot photos on the salt and other venues. One of his most fortuitous shots was that of the Burkland 411 liner as it pogo-sticked into the pit area around a buck-twenty after a chute failed to open. Rat ain't the sharpest knife in the drawer, so he stayed transfixed as Tom Burkland came by, spraying salt all over bystanders and photographer (Rat was the only one present at the time.) He also worked with Seldom Seen Slim of Landracing.com at all events since 2008 and lived to tell about it....not to mention having a hell of a good time.
The Rat would like to express his heart-felt gratitude for the opportunity to be a part of the Target 550 team. Glenn Freudenberger is one of his heroes and mentors and was instrumental in bringing the Rat into the team, a gesture that will always be remembered fondly. His plans for the future include seeing his his 29 Model A rat rod (what else would you expect?) completed and completing race car for the USFRA 130 club...in 2011 if at all possible. In the meantime he can be found (as usual) behind a camera or at the computer screen/keyboard hacking out web site code in attempt to find meaning to his life...but enjoying his insanity rather than suffering from it. He recommends that to anyone who will listen. One serious note. The Rat has been a friend of Bill W for almost 20 years and counts that as the key to living the wonderful (and ever improving) life he lives.