Marlo Treit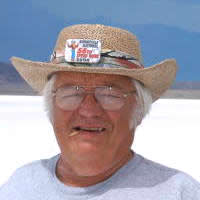 Marlo Treit, the project coordinator, has been involved with land speed racing for 4 decades. In early years he held motorcycle records and since then has been involved with many record breaking vehicles: streamliners, lakesters and roadsters to name a few. A personal collection of fast things include a 1700 mph Soviet Mig 21 aircraft, a Cessna 414 pressurized twin engine personal transportation aircraft and he still maintains a current salt flats Lakester (with current records).

He had the first Lakester to ever exceed 312 mph in the 1/4 at Bonneville and the first open wheel car to exceed 333 in the mile. Innovation rather than imitation are the rules for this man. He has walked where no one has been and will continue to succeed by the use of talents that have been honed by time. A visit with him is a trip through time and into the 21st century with the most exciting new car to invade the planet.

Marlo has been the speaker at SAE meetings, school groups and regularly contributes to Auto club functions and civic functions that enhance the auto image in the community. He was inducted into the Dry Lakes Hall of Fame in Sept 2000 to be aligned with some of the greats of our time. In 2000 he was also inducted into the "CARS" elite group of contributors for the Portland Roadster show.