Jim Hume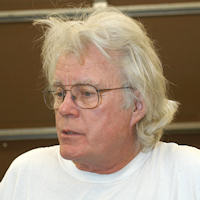 Jim has had a life in race cars that most hot rodders would kill for. He has spent most of his life building race cars for drag racing. However, we had the pleasure of introducing him to Bonneville racing. His resume looks like the "who's who" in every major camp. He has built or reconstructed cars for Prudhomme, Bernstein, Pulde, Ed the Ace, John Force and the lexicon of drag racers today. His talents for chassis and body construction are without equal. Our conversation regarding this project was simple. Since I had been gathering parts for some time and he had done massive reconstruction on my lakester, he said, "I hear you want to build a new car." I said "Yes." His next question was, "Have you commissioned anyone to do it?" I replied,"No." Jim then said, "What will it be?" My response was, "The fastest wheel driven car in the world."
Jim's response: "I would be interested. Is there a budget or a time limit?" I said "No, we will know when it is done. How long it took and what is costs isn't anyone's business." From there on we made real progress.
See wind tunnel photos for the model Jim constructed as well as all the changes that made this creation one of the most tested land speed cars. Jim had to rebuild the wind tunnel at Western Washington University to handle the length of the car and after that we spent about 14 months correcting the cars design.