Dick Milne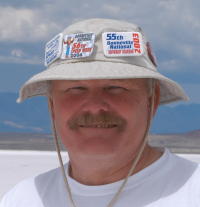 Dick Milne comes to our camp from a long line of racing adventures. He has had the usual hot rods: 37 Ford with Chrysler hemi, MGA with Chevy V8 and miscellaneous dune buggies. Motorcycles were part of his growing up and high speed boats rounded out the time. Next, of course you have to go to Bonneville. That is where we met. He had a passion for speed and this place has it.

After meeting him in the pit area at Bonneville several times, I invited him to come along with us. Hence, Milne became part of the #678 Fuel Lakester crew. He has worked as an electrician, a millwright, a mechanic and spent time studying to graduate from an automotive community college.

No job in our camp is beyond his capabilities. He does any phase of the race car and is one of the first to spend the time doing the service on the trailers, generators and trucks that make it all happen.

He has paid his dues. His home is on Mt. Hood and so it is only uphill one way to our shop or his current job with a major truck manufacturing company.

We are happy to have him and it has been close to two decades. Tune it up for me as best you can. Richard Milne is part of the glue that makes all of our projects stick together.